Are you tired of your advertisements getting lost in the crowd? With iCandy electric scooters, your company or brands can be seen everywhere on the street! These scooters are equipped with LED screens displaying your ads, providing a unique and eye-catching platform that is sure to stand out.
We've got a little secret for you, iCandy isn't just about the scooters! Brands can also place ads and logos on the helmets located on every scooter, putting your message right in front of people's eyes. This is advertising at its finest, and your company and brands deserve to be a part of it.
Trust us... when people see your brand on the move with iCandy, they will do a double-take! This innovative and dynamic advertising platform is sure to get people talking and create a lasting impression on your target audience.
The creative and eye-catching displays on the scooters and helmets are designed to keep people's attention, encouraging them to take a second look. This is advertising that people will actually enjoy, and your company and brands deserve to be a part of it.
Get ready to take your company and brands to new heights with iCandy! These scooters aren't just stationary billboards, they move around the city and bring brand exposure to new and exciting places. This is the next generation of mobile marketing, and your company and brands deserve to be a part of it.
Roam all around the city, ensuring that your Company or brand is seen by anyone and everyone at all times.
Multiple Options
From LED scooter screens to helmet branding, giving your brand maximum exposure, all around town.
For Your Brand
Custom ads with the option to brand scooters and helmets, make a unique impact on your audience.
Exclusive Deals
Most innovative advertising opportunities and packages to make your brand stand out on the streets.
Time To Take Your Company and Brands To New Heights
Contact Us
The first step to getting your company and brands on the move with iCandy is to get in touch with us! Our team of professionals are here to help you every step of the way and answer any questions you may have.
Choose The Ad Types
With iCandy, you have multiple options to choose from when it comes to putting your ads on the scooters and helmets. You can choose monthly, daily or hourly LED ad screenings, multiple branding on helmets (6-12 month minimums) or even a custom ad experience tailored to your brand's needs.
Can Be on the Screen
The LED screens on iCandy scooters are perfect for displaying your brand's advertisements in a unique and eye-catching way. With the ability to show dynamic and creative displays, your brand is sure to stand out and capture the attention of passing audiences.
Can Be on the Helmets
The helmets of iCandy scooters are another opportunity for your company or brands to shine. With the ability to place your logo or ads on the helmets, your message will be seen everywhere the scooters go, putting your brand all around people's heads.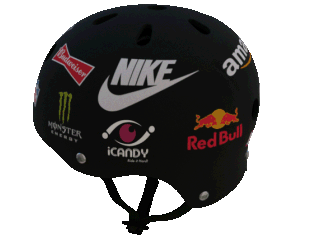 Total Design Freedom
We understand that every brand is unique and deserves a tailored ad experience. Whether it's a specific message you want to convey, or a certain look and feel you want to achieve, we've got you covered. If you have no experience designing an ad, no worries, we have designers ready to step in.
With iCandy, your brand can be seen wherever and whenever you want! Our scooters are on the move, bringing your brand exposure to new and exciting places, and increasing the reach and visibility of your advertisements.
Don't miss this opportunity to take your brand to new heights. Get moving with iCandy today and start reaching new audiences in dynamic and exciting ways.
Place your logo here, there and everywhere.
All riders using our herlmet will help your company and brands. Sounds like a good place to advertise to me. Get in touch with us and make your advertising dollars count. Your brand will be seen all around the city and on the move, be seen by more people and get more eyeballs on your logo. Make a lasting impression, be part of the revolution and join us now!
Need More Information?
Contact Us Today!
Whether you're interested in learning more about our platform, want to join the iCandy community, or just want to chat about the future of shared mobility, we're here for you. So don't be shy, contact us now and let's have some fun while we help you with your journey!